What is cardiopulmonary therapy?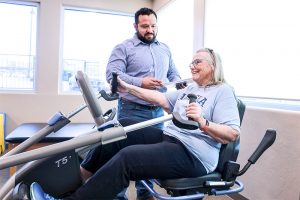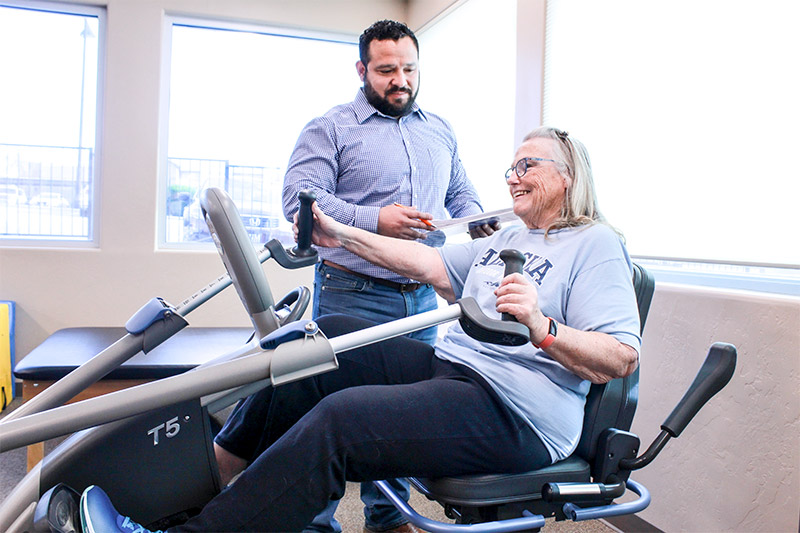 Las Cruces Comprehensive Rehabilitation offers licensed pulmonary rehabilitation for patients who have chronic lung disease, such as Chronic Obstructive Pulmonary Disease (COPD) or Pulmonary Fibrosis. Pulmonary rehabilitation can also be beneficial for patients with bronchitis, emphysema, asthma, cystic fibrosis, and other diseases and conditions that affect the lungs. It can even be beneficial for patients that go through surgery due to lung cancer or a lung transplant. Through pulmonary rehabilitation, patients can have hope for regaining lung function, building strength and improving quality of life. Many patients with chronic lung disease do not know about pulmonary rehabilitation, but Las Cruces Comprehensive Rehabilitation wants to change that, so that they can help more people with chronic lung disease can improve their quality of life and overall health. In addition, Las Cruces Comprehensive Rehabilitation can also see heart patients whose doctors recommend cardiopulmonary therapy. Las Cruces Comprehensive Rehabilitation offers the best quality of service with experienced, licensed therapists to provide each patient with a quality of care they may not receive elsewhere.
What can I expect from my pulmonary rehabilitation or cardiopulmonary rehabilitation regimen?
Most patients who receive this type of therapy will have a regimen that includes at least three to six months of therapy. These patients become like family to the therapists that work with them. Las Cruces Comprehensive Rehabilitation welcomes each patient and works with the patient and their doctor with frequent communication of their progress and their course of treatment. Therapists work hard to make these therapy sessions enjoyable for patients, so they want to attend and continue their entire course of therapy. Most cardiopulmonary patients will attend one hour sessions two to three times a week for several months, during which time patients are able to build a relationship with their therapist. The therapists at Las Cruces Comprehensive Rehabilitation show genuine care and empathy for their patients and build relationships by listening to their needs and tailoring their  therapy treatment to meet those needs, as well as to build their lung capacity, strength and overall health. 
New patients are evaluated which includes their medical history and doctor's recommendations. Patients will then undergo cardio and breathing assessments to determine their capacity. Patients begin with a gentle warmup on the NuStep cross trainer to warm their body and improve their core temperature. Patients will then complete a 10, 20 or 30 minute session of cardio with breathing corrections. Throughout this session, patients vitals are monitored, such as blood pressure, heart rate and oxygen saturation. Patients will also complete a 10, 20 or 30 minute session of strength training with breathing corrections. Again, patients' vitals are monitored. The goal of these sessions is often to wean patients off of oxygen, giving them more freedom and improving their overall health and quality of life. In pulmonary rehabilitation, extra emphasis is placed on breathing techniques and exercises, in order to build lung capacity and help patients to better be able to breathe during exercise. 
What are the benefits of pulmonary rehabilitation?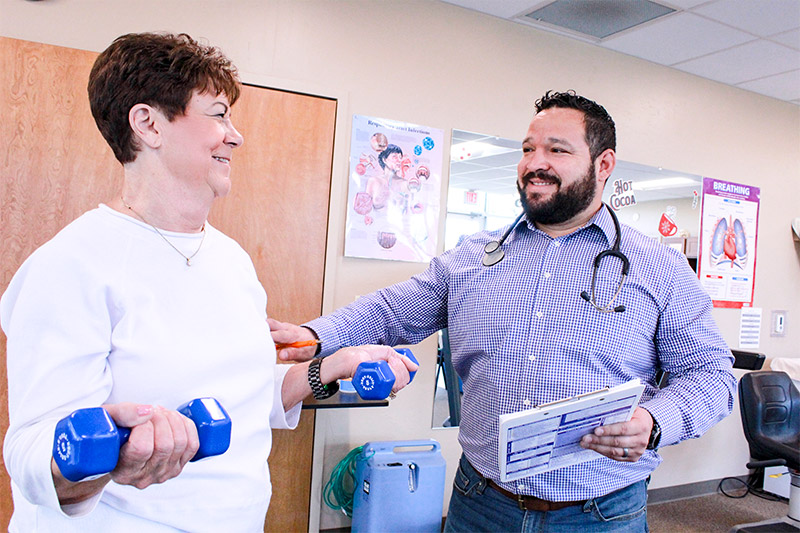 Pulmonary rehabilitation has many benefits for those with chronic lung conditions and those that have undergone surgeries. This type of therapy can reduce symptoms of breathlessness, improve exercise capacity and improve a patient's overall quality of life, helping them physically and psychologically. Many patients with chronic conditions that require them to use oxygen feel a loss of hope. However, pulmonary rehabilitation can ween patients off of their use of oxygen, giving them more freedom and hope for the future of their health. A combination of cardio, strength and respiratory exercises make up the course of treatment used in pulmonary rehabilitation. Therapists at Las Cruces Comprehensive Rehabilitation work closely with patients and their doctors to meet their specific needs. Therapists not only develop a course of treatment that will benefit the physical and mental health of the patient, they also help educate the patient in ways that they can further improve their health and continue their therapy at home. According to the American Lung Association, pulmonary rehabilitation reduces hospitalization in those with chronic lung conditions, as well as improving their quality of life. Las Cruces Comprehensive Rehabilitation is honored to be an integral part of this health journey for so many people struggling with chronic lung conditions.