Las Cruces Comprehensive Rehabilitation offers all types of physical therapy, including orthopedic, aquatic, TMJ, hand and physical therapy to support just about any body part that has limited range of motion due to surgery or injury. Every patient that begins a course of therapy at Las Cruces Comprehensive Rehabilitation will be seen by a physical therapist and a physical therapy assistant. Each of their physical therapists have more than 15 years of experience. By working with a highly experienced physical therapist, each patient is receiving the highest level of care, with customized therapy to address each individual's needs. This high level of experience is what sets Las Cruces Comprehensive Rehabilitation apart from the rest. 
Who can benefit from physical therapy?
Many people may not even realize how physical therapy can benefit them. It is recommended for many people after they have had surgery, including knee, shoulder, back and many others. Therapy can also benefits people who have had an injury, including athletes who may have an ACL or rotator cuff tear, or those who have experienced a car accident or other type of accident. Physical therapy is also very beneficial to anyone who experiences chronic pain, such as back, neck, ankle, knee, shoulder, tennis elbow, tendonitis, carpal tunnel syndrome (hand) or TMJ jaw pain.The highly trained therapists will work with the patient's physician to determine a specialized regimen of therapy for 3 weeks, 8 weeks, or longer, if necessary for the benefit of the patient. The physical therapist will work with the patient on strengthening and range of motion exercises. The patient's progress is always communicated back to their doctor, so they can help determine the proper course of treatment for the patient. This open communication between therapist and doctor is just another way the Las Cruces Comprehensive Rehabilitation is a step above the rest.
What can a patient expect at their first physical therapy appointment?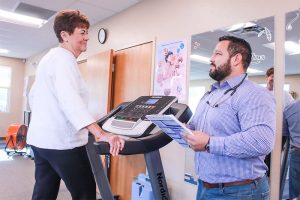 Las Cruces Comprehensive Rehabilitation prides themselves on punctual service with no wait times. When a patient shows up for their first appointment, they will take care of paperwork and insurance, unless they chose to do it online, in advance of the appointment. After that, the patient will receive an evaluation with the physical therapist to determine their needs and their course of treatment. This evaluation may take about an hour. During this time, the therapist may start the patient off with one or two exercises to begin their course of treatment. At this time, the patient will also be scheduled for therapy about 2-3 times a week and their appointments will be scheduled out for the next three weeks. During their course of treatment, patients will have the consistency of always seeing the same physical therapist or therapy assistant. This helps ensure that their treatment is consistent and their goals are being met throughout the entire course of treatment.
What is some of the equipment that is used during physical therapy?
Patients begin with a gentle warmup on the NuStep cross trainer to warm their body and improve their core temperature. After the warmup, there is a variety of equipment that is used depending on the body part needing work. Therabands are used for resistance training and help build strength and improve range of motion. These bands can be used for arms, legs, shoulders, core muscles, and much more. The Repex McKenzie extension and flexion table is used for passive range of motion movements of extension for those with back pain. These protocols passively and automatically exercise the patient's lower back, which helps with chronic pain and strengthening of the back and core muscles. Parallel bars help patients with walking mechanics and balance. Therapy stairs are used to build strength and balance. Traction is used to help with chronic back or neck pain. Electrode therapy may be used to relax muscles and to improve flexibility and range of motion. Of course, the use of all of this equipment is assigned and supervised by trained professionals who ensure proper use in the course of each patient's treatment. At Las Cruces Comprehensive Rehabilitation, the needs of the patient always come first and the goals of each patient are what drive each individual's course of treatment.
Does Las Cruces Comprehensive Rehabilitation offer aquatic therapy?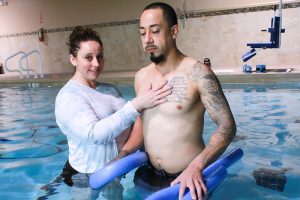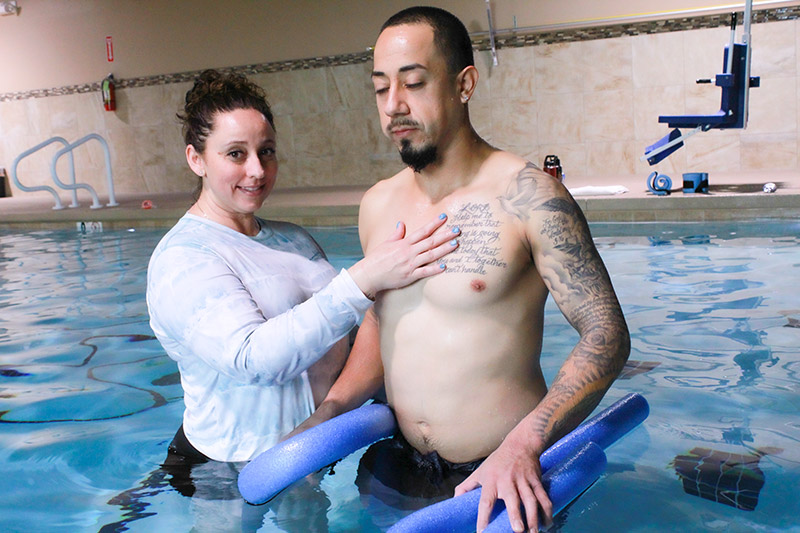 Las Cruces Comprehensive Rehabilitation also offers a heated aquatic therapy pool that is very beneficial to unload the weight of any body part and offer low-impact exercise to help treat any body part with limited range of motion. The aquatic therapy pool is heated to a comfortable 91 degrees to provide the warmth the muscles need to relax and work efficiently. Aquatic therapy is a safe and effective way to work on flexibility and range of motion without further aggravating an injury. Aquatic therapy can also bring relief to people with certain conditions, such as neuromuscular or musculoskeletal conditions. Aquatic therapy can be ideal for people with arthritis, fibromyalgia, Multiple Sclerosis and osteoporosis, as well as joint replacements and post-surgical conditions. By providing a gravity-free environment, exercises are less painful and relieve the weight-bearing joints. The pool can also lower blood pressure and decrease swelling. Overall, there are many benefits of aquatic therapy for a wide range of patients with various condition. Like all physical therapy at Las Cruces Comprehensive Rehabilitation, aquatic therapy is supervised by highly trained, experienced therapists and therapy assistants. Aquatic therapy is highly effective and is used in conjunction with other types of therapy, based on each individual patient's needs. Read more about aquatic therapy here.